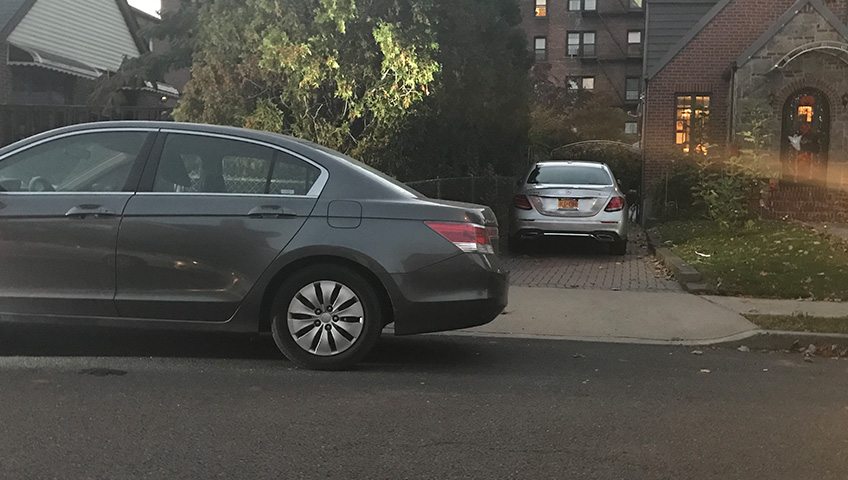 Summary & Quick Facts
It is always illegal to block or park in front of a public or private driveway in NYC.
Parking in front of a driveway will land you a $95 parking ticket. 
Once you receive a ticket, property owners may call a private company to tow your car.
You will be responsible for all towing related charges and fees in addition to your parking ticket.
You may only park in front of a driveway if you are a tenant or owner of the building that has the driveway in question and your car's registration matches the property address.
You may stop in a driveway to quickly pick up or drop off passengers.
NYC Driveways: The (Seemingly) Perfect Parking Spot
Every driver in New York City knows how difficult it is to find a good parking spot. Here, parking spots are undoubtedly prime real estate. Finding them is only half the battle, especially when you realize that they're nearly impossible to keep. For the folks who own a driveway in the city,  having a personal parking spot is definitely a blessing. For those drivers who don't, sometimes it seems like a driveway is literally the only spot to park. This is especially true at times when there isn't much free parking around. Subsequently, many drivers end up taking a risk and getting parking tickets for blocking city driveways. Not only that, they will surely aggravate neighbors and homeowners who need access to their driveways. Nevertheless, it's important for all drivers to know the risks and penalties you face if you are caught breaking this regulation. 
The NYC Law Against Blocking A Driveway
One thing all New York City drivers should know is that it is completely illegal to block or park in front of a driveway. The city defines it plainly and simply in the NYC Department of Transportation Traffic rules and regulations:
(f) General no standing zones (standing and parking prohibited in specified places). No person shall stand or park a vehicle in any of the following places, unless otherwise indicated by posted signs, markings or other traffic control devices, or at the direction of a law enforcement officer:

(2) Driveways. In front of a public or private driveway, except that it shall be permissible for the owner, lessor or lessee of the lot accessed by a private driveway to park a passenger vehicle registered to him/her at that address in front of such driveway, provided that such lot does not contain more than two dwelling units and further provided that such parking does not violate any other provision of the Vehicle and Traffic Law or local law or rule concerning the parking, stopping or standing of motor vehicles. The prohibition herein shall not apply to driveways that have been rendered unusable due to the presence of a building or other fixed obstruction and, therefore, are not being used as defined in §4-01(b) of these rules.
Driveways fall under NYC's "No standing" violations. While you may not park or stand in front of any driveway in NYC, you are however allowed to stop temporarily in front of them to quickly pick up or drop off passengers. Passengers should already be present at the location for pickups. 
The Penalty For Blocking A Driveway
Sorry city drivers, you simply cannot take that seemingly open spot which happens to be in front of a private driveway. It doesn't matter if you think you won't be there for long or if you don't think someone will be using it. You still risk receiving a hefty $95 parking ticket. Even if the front or rear bumper of your car crosses the plane of the driveway just a bit, you'll be issued a ticket. 
It is also important to remember that all of New York City is a tow-away zone. This is especially the case for driveways. If you park in front of one, you not only risk a parking ticket, you risk losing your car as well. After your car receives a ticket, property owners may contact the city or a private towing company to remove your vehicle. The vehicle's owner will have to pay any fees charged for towing.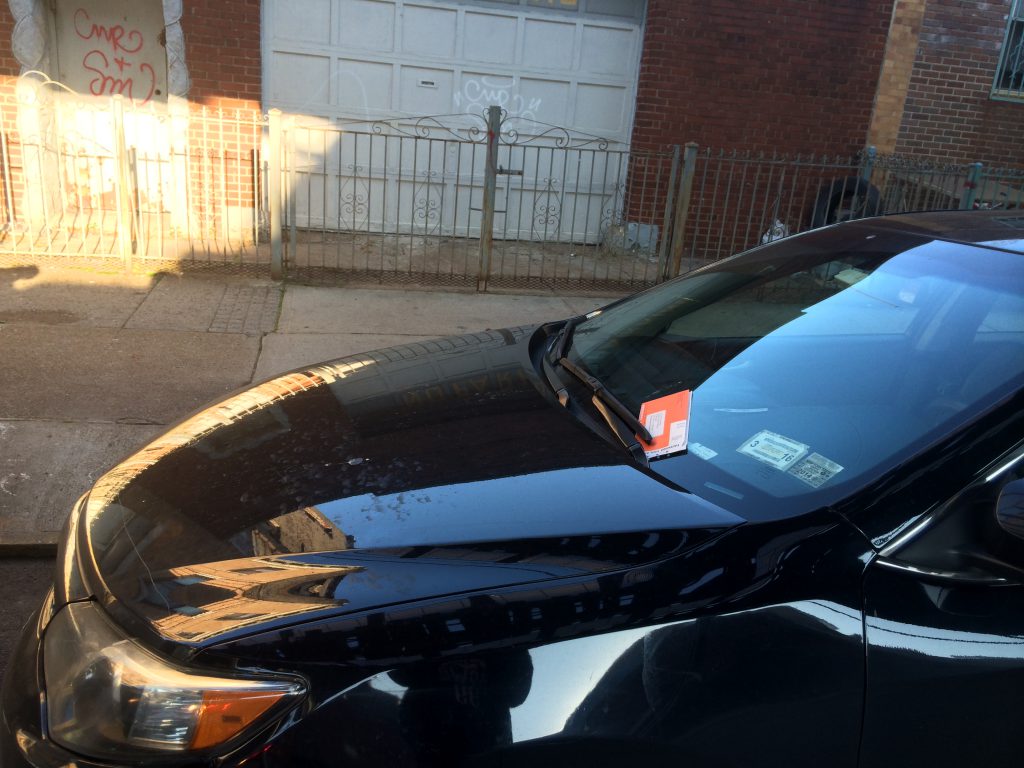 Can I Fight A NYC Driveway Parking Ticket
Sometimes you may think that you do not deserve a ticket for blocking a driveway. There are a whole host of reasons why this can be the case. We will cover a couple of the defenses that you can use to fight a parking ticket for this infraction. While this is not an exhaustive list nor can we guarantee that you win every ticket verdict, it is still good to know how to fight an NYC parking ticket. 
Defective Ticket
Defective tickets will always get you out of a blocking the driveway parking ticket. This is true regardless if you are legally or illegally parked in front of a driveway. A ticket is defective when a piece of information required under NYC traffic laws and regulations is missing, misdescribed, or illegible. This can something like wrong license plate numbers, inaccurate vehicle description and inaccurate information on the exact location where the infraction took place. Even a missing name of the Enforcement Officer or signature can invalidate this kind of parking ticket.
You Own The Driveway
A little-known rule is that the owners and tenants of 1 or 2 family homes may park their own vehicles in or in front of their private driveways. Obviously, the vehicle must be registered to the same tenant or owner of the building that possesses the driveway.
To prove this, include a letter explaining that you are in fact the owner or tenant of the address. Be sure to submit a copy of your car's registration and a deed, a copy of your lease or a letter from your landlord. This helps prove that you are a tenant and owner of the driveway where you received the parking ticket.
This Is Not A Legal Driveway
Sometimes, not all driveways are what they seem. There have been many instances when zealous homeowners have illegally made driveways and curb cuts. Homeowners do this by either marking the curb with yellow paint, an official-looking traffic sign, or a barricade. If you get a ticket for parking in a driveway you think is illegal, check to see if the location has a permit for on this official city website.
Someone Is Blocking My Driveway…
For drivers on the other side, the city encourages homeowners to report cars that block their driveways. You can report cars that are either partially or completely blocking it. Usually, officers will dispatch to your location and issue a citation to the car blocking the driveway. If the vehicle has a ticket and still hasn't moved, you can then contact a private towing company.  The vehicle owner will be responsible for paying any towing fees.