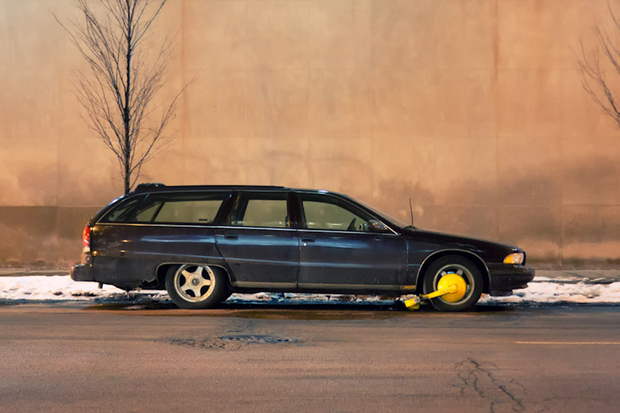 Summary & Quick Facts
A car boot is a device that prevents vehicles from moving or operating properly.

Drivers who are parked illegally or have parking tickets in judgment are at risk of receiving the boot.
Under certain circumstances, your vehicle may also be towed immediately after it is booted.
You may pay to remove the boot using debit/credit cards, 

cash, money orders or cashier's checks. 

If your car is booted or is at risk of being booted try not to pay online and use a more immediate form of payment.

You may drop off your car boot at numerous locations throughout the 5 boroughs.
This Yellow Monstrosity Could Stop You In Your Tracks…
Drivers deal with a lot when they're on the road in this city. Sure, things like potholes are a drag and of course, we all hate how hard finding parking is.  Still, nothing is worse than discovering that annoying yellow contraption affixed to one of your car's wheels. Finding your car immobilized because of the dreaded car boot is easily one of the most infuriating things for drivers. We all know the terrible headache that a car boot can induce. Thus, it's important to know how you can quickly and safely get the boot off your car as fast as possible.  New Yorkers are always on the move, so don't let that dreaded car boot slow you down! Here is how you can get that wheel boot off your car to keep it out of sight and out of mind.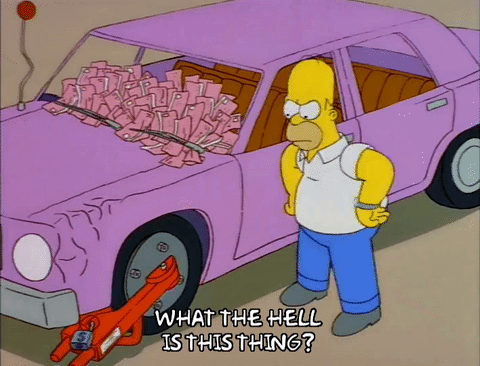 How Do You Get The Car Boot?
A car boot is a 16-pound device that prevents vehicles from moving or operating properly. You can look at it like a big lock on your car because that is what it essentially does! It does this in such a way that prevents the wheel from rotating as it normally would without damaging your car. In its most common form, a car boot consists of an electronically locked clamp that surrounds a vehicle's wheel. As such, the car boot prevents people from easily removing it. The boot also prevents drivers from removing the tire it locks. 
Drivers can receive the boot if they are parked illegally or have unpaid parking tickets in judgment. Under certain circumstances, especially when you are parked illegally,  your vehicle may also be towed immediately after it is booted.
City Marshals are constantly on the patrol in the city looking for drivers with outstanding parking tickets in judgment. If you are one of the unlucky drivers who've racked up at least $350 in unpaid tickets, you're a target.
City marshals use an array of high tech tools as they cruise the streets looking for the scofflaws. Marshals prowl the streets as two-man teams in vans equipped with special cameras that read license plates. An in-car computer with software that scans a database of motorists on the boot list will alert the parking enforcers when it reads a license that matches.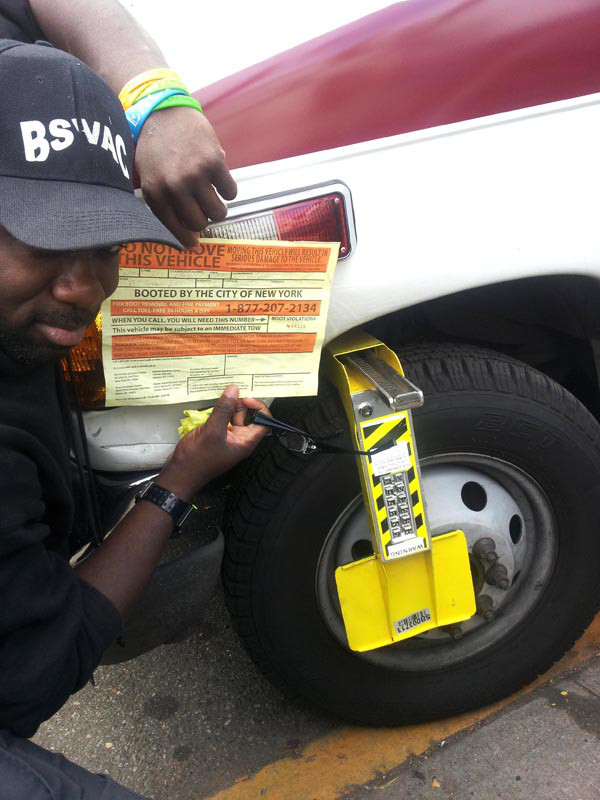 How To Remove The Car Boot
You will have to pay the outstanding judgment debt in its entirety on your unpaid parking tickets. This includes any added additional fees. These extra fees include a $159 fee for the boot and an $80 Sheriff's execution fee as well as a poundage fee that is 5% of all fines including penalties and interest. Luckily, the boot that the city uses can be removed from an unfortunate motorist's car without the city's assistance. Once you pay off your open violations and fees, you will receive a code that you can enter onto the boot's keypad to remove it. If you can't remove the boot yourself or don't want to, you can ask the city to send a support officer to assist you within 2-4 hours.
| | |
| --- | --- |
| Boot Fee: | $159.00 |
| Sheriff/Marshal Execution fee: | $80.00 |
| Tow Fee (If applicable): | $135.00 |
| Tow Dispatch fee (If applicable): | $67.50 |
| Judgment Amount* | This is the fine amount of unpaid parking tickets you have in judgment |
| Additional Fees* | This may include prior late fees |
Pay By Phone
To get the boot off, call the toll-free phone number (877-207-2134) on your boot notice. Drivers can pay over the phone with a debit or credit card or even use an electronic check to cover their debt. You may also pay with a gift card if it has a credit card logo. If you pay with a gift card, you must provide a valid credit card number to remove the boot yourself.
Other Ways To Pay To Remove A Car Boot
The city also will accept cash, money orders or cashier's checks at any of their Department of Finance Business Centers. Each of the 5 boroughs has one Department of Finance Business Center. After you pay what you owe, you will immediately receive a release code for the wheel boot. When you enter the code, the boot will unlock and you will be able to safely remove it from your car. 
If your car is booted or is at risk of being booted, please NYC drivers, try not to pay online and go for a more immediate form of payment!
If you decide to pay online while you're at risk of booting, your vehicle may be booted or towed before your payment is even processed. Not only will you still have the dreaded boot immobilizing your car, you will also be responsible for all booting and towing fees. If you do not pay your judgment debt and related fees within two business days of receiving the car boot, the city may tow your vehicle. Wait even longer and the city may even sell your car at auction.
Car Boot Drop Off Locations
You need to return the boot to a return location near you within 24 hours to avoid receiving a fee. The city will add a fee of $25 a day for every day you do not return the boot. Below are the locations you may drop off your car boot once you have removed it.
Manhattan
| | |
| --- | --- |
| Little Man Parking | 300 West 135th Street |
| Little Man Parking | 220 East 9th Street |
| Shell Gas Station | 1855 First Avenue (Between E95th and E96th Street) |
Bronx
| | |
| --- | --- |
| Pay-O-Matic | 1865 Bruckner Blvd. |
| Pay-O-Matic | 3480 Baychester Avenue |
Brooklyn
| | |
| --- | --- |
| Williamsburg Service Center | 713 Kent Avenue |
| Kings County Parking | 581 Clarkson Avenue |
| Ken Ben | 1908 Shore Parkway |
Queens
| | |
| --- | --- |
| Pay-O-Matic | 102-26 Atlantic Avenue |
| Pay-O-Matic | 9925 H. Harding Expwy. |
| Pay-O-Matic | 160-39 Rockaway Blvd. |
Staten Island
| | |
| --- | --- |
| Ace Discount Tires | 132 Morningstar Road |
| Pay-O-Matic | 2510 Hylan Boulevard |
Can't Afford to Remove the Boot? A Payment Plan May Help
If you are a driver strapped for cash and unfortunately cannot afford to pay off a judgment up front to remove a boot, you may opt to negotiate a payment plan with the NYC Department of Finance. Only drivers who do not have NYC parking tickets in judgment that equals or exceeds $500.00 can apply for this program. Drivers must prove to the Department of Finance that it is a financial hardship and burden to pay the parking tickets in judgment in one payment. Eligible drivers must live, work or go to school in New York City. Be sure to bring documents with you to prove and support your claim of financial hardship. Documents such as W-2 forms, bank statements, and tax returns can definitely help you out with this.
Generally, the PVB requests you pay 50% up front of the total amount in judgment and enter into a payment plan for the balance. In my experience, the amount of the upfront payment is negotiable, depending upon the degree of your financial hardship. One of the sad things about parking tickets in judgment is that you forfeit the privilege of securing a reduced fine. No discounts, no reductions, and no negotiating the gross amount of your fines and penalties.